Marketing management consultation is composed of two parts, market and sales. Through exact diagnosis of corporate status, GCI finds problems and incomplete parts in operation and provides pertinent implementation projects, which will improve veracity and effectiveness of project implementation. Based on this project, complicated marketing works will be adjusted and reengineered and ultimately an integrated marketing management process and system will be built, which could be implemented easily and suitable for the corporation. This marketing management system can help corporations form perfect clients (sales) networks, improve brand prominence and esteem, build sales team with excellent skills and talents, and decrease unreasonable costs in order to improve revenue and profit and to achieve development goals better.
 According to our experience on hundreds of management consulting projects to domestic corporations, GCI finds that improvement speed of marketing achievements of many successful companies is gradually slow as changes of environment and fierce competition after a period of high-speed development. At the same time of improvement yearly, development is more and more difficult. Therefore, as development and change of circumstance, GCI pays more attention to marketing management process in consultation, especially management of sales process, which will be a focus of marketing achievements improvement.
 Up to the present GCI has provided marketing management consulting services to about one hundred large corporations in pharmaceutical, textile, chemistry, and machine industry. There are about 36% of our clients whose average annual revenue is more than one billion, and 95% whose AAR is more than 100 million. The average annual revenue growth rate of our clients is more than 20% after consulting project, which makes us obtain high client satisfaction.
 Thereinto when we provide marketing management consulting project to one listed company, GCI focuses on the management of sales process. This project has a great effect, which makes the corporation¨s revenue of the first quarter is more than expense on this project. The marketing achievement increases more than 70%. The revenue in 2000 is 60,256,120.61 Yuan, and increases to 302,097,498.27 Yuan,in 2003. The stock decreases from 4000t to zero, and the number of sellers from 32 to 16. The position of price in this industry increases from the sixth to fourth, and market share from 18% to 32%.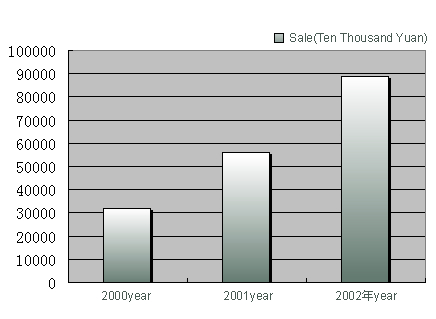 Preparation phase
Corporate
Circumstance diagnosis

The first phase

Project team establishment

The second phase

Project diagnosis phase

The thirdphase

Project design phase

The fourth phase

Implementation phase

The fifth phase

Conclusion and after-project services phase

 
Through the sufficient understanding on corporate development strategies, goals, and current tasks, GCI will analyze the constitution and operation of executive departments and find problems and parts under correction in order to improve veracity and effectiveness on project.
Internal project team is built in order to accomplish the project better with consultants. Generally, internal project team includes senior managers and some of middle-level managers.
Consultants will understand corporate environment through senior and middle-level managers and staff in every department. And then they will provide systematic report on diagnosis results to senior managers.
Project will be constituted by consultants and internal project team together and adjusted according to the corporation¨s circumstance.
After project constitution, internal project team will implement and analyze and solve problems in implementation with consultants together.
When the project finishes, consultants will conclude circumstance on implementation and provide constructive suggestions on farther improvement.
Main Services

Marketing

Marketing Strategy:

Market segmentation  price strategy  brand strategy  channel strategy

Market information collection and analysis

Market promotion:

Advertisement sales promotion telemarketing

Marketing budget

Sales

New market developing

Sales process management

Sales forecast management

Analysis for sales

Account receivable management

Sales staff appraisal system

After service system

Cooperation
GCI is the first consulting company who cooperates with clients to share risks in domestic consulting industry. We will charge clients for marketing management consulting project according to improvement on clients¨ revenue, which could decrease investment risk on management consultation.
A proportion of expense will be paid according to improvement on clients¨ revenue in consulting project agreements. When revenue improvement achieves anticipative goal, this proportion will be paid totally; when anticipative goal is achieved partly, this proportion of expense will be paid according to implementation circumstance. If goal is not achieved, this proportion will not be charged.
GCI will help client plan product packaging, promote, and then share revenue.